Preview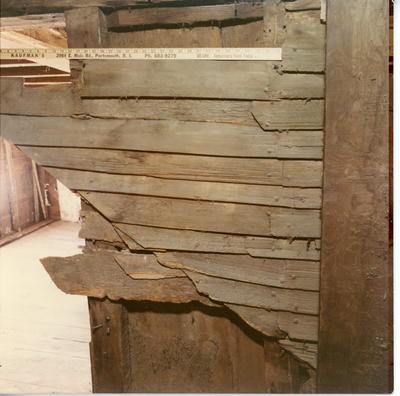 Date Moved or Destroyed
1973
Description
Mott House Room L, behind the north wall. Clapboards -- looking south. Roof line seen from other side. Note: 2 separate roof lines. Photograph dated January, 1973.
Location
West Main Road, Portsmouth, RI
Rights
Images in the "Anne W. Baker Collection," at Roger Williams University Libraries Archives (Bristol, Rhode Island) may be protected under copyright law. They may only be used for educational, teaching, and learning purposes. If intended use is beyond these purposes, it is the responsibility of the user to obtain the appropriate copyright permissions.
Style/Period
17th century
Recommended Citation
"Mott House 186: Room L Clapboards" (2021). Images. 158.
https://docs.rwu.edu/baker_images/158
Keywords
Mott House, historic houses
COinS