Preview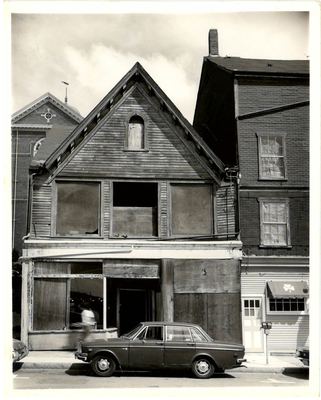 Date Moved or Destroyed
1977
Description
Macomber-Sylvia Building - view north from across Union St. "A two story building with a storefront. Built by Leonard Macomber in 1816, it had been a grocery store, a barber-shop, and a hardware store until 1870, when it had been purchased by Antone Sylvia. Sylvia added the Italianate style gable dormer to the front and proceeded to manufacture cigars. But by 1900, the whaling era had come to an end and the building was sold. The next owner, deciding to modernize, had added three large windows to the second floor." - From Collecting Houses by Anne W. Baker, p.150.
Location
71-73 Union Street, New Bedford, MA
Rights
Items in the "Anne W. Baker Collection," at Roger Williams University Libraries Archives (Bristol, Rhode Island) may be protected under copyright law. They may only be used for educational, teaching, and learning purposes. If intended use is beyond these purposes, it is the responsibility of the user to obtain the appropriate copyright permissions.
Style/Period
19th Century
Recommended Citation
"Macomber-Sylvia Building 001: North View" (2021). Images. 593.
https://docs.rwu.edu/baker_images/593
Keywords
Macomber-Sylvia, Macomber-Silvia, New Bedford, MA
COinS