Preview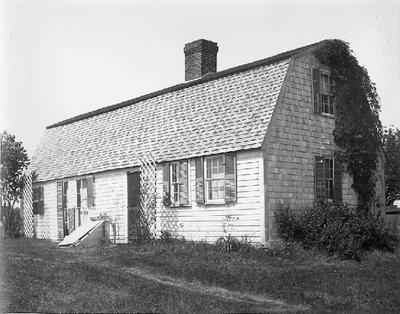 Date of Restoration
1977-78
Date Moved or Destroyed
1976
Description
Coggeshall house was a Dutch gambrel, one story with a center chimney, originally located at 42 Reed Road in Westport and later dismantled and re-assembled at 66 Williams St., Newport, RI.
Framing showed that originally this was an end chimney one room house. Added on at east end and chimney moved to the middle. Original section had an exposed chamfered frame. Original roof line is unknown. Summer beam parallel to chimney. Vertical siding. Butt and cog joist ends. There was heavy termite damage throughout the house.
Location
42 Reed Road, Westport, MA and Newport, RI
Rights
Items in the "Anne W. Baker Collection," at Roger Williams University Libraries Archives (Bristol, Rhode Island) may be protected under copyright law. They may only be used for educational, teaching, and learning purposes. If intended use is beyond these purposes, it is the responsibility of the user to obtain the appropriate copyright permissions.
Style/Period
Dutch gambrel. One story center chimney
Recommended Citation
"Coggeshall House 001: Exterior in Westport" (2022). Images. 780.
https://docs.rwu.edu/baker_images/780
Keywords
Coggeshall House, Westport, MA, Newport, RI
COinS