Preview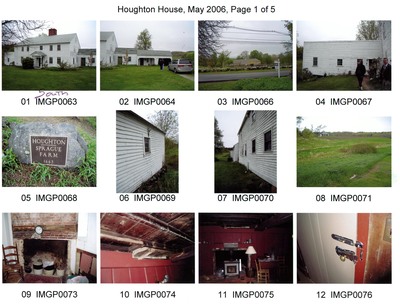 Description
A series of photographs on one sheet. Sheet 1 of 5
Photos Descriptions:
1. Front of House - South view facing West Bare Hill Road
2. Sheds, Nearest the house shed may have been used as a summer kitchen. 2nd shed used for storage
3. New Barn across the street where the historic barn once was.
4. Shed on left side of the house - where the buttery was.
5. Plaque on the property refers of unknown origin
6. Rear exterior wall of sheds on the right side of the house
7. Back of the house
8. Area behind the house
9. Fireplace in the Kitchen
10. Beams in the 17th century? part of the house
11. Old room in the house
12. 19th century Door hardware
Location
204 West Bare Hill Road, Harvard, Massachusetts
Rights
Items in the "Anne W. Baker Collection," at Roger Williams University Libraries Archives (Bristol, Rhode Island) may be protected under copyright law. They may only be used for educational, teaching, and learning purposes. If intended use is beyond these purposes, it is the responsibility of the user to obtain the appropriate copyright permissions.
Style/Period
late 17th Century
Recommended Citation
"Houghton-Sprague House 010: Image Series, May 2006" (2022). Images. 845.
https://docs.rwu.edu/baker_images/845
Keywords
Houghton House, Houghton Farm, Houghton-Sprague, Harvard, Massachusetts
COinS