Preview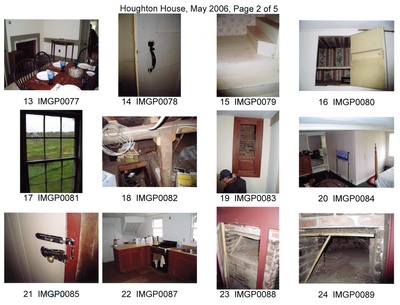 Description
A series of photographs on one sheet. Sheet 2 of 5
Photos Descriptions:
13. Room has built-ins and the plaster may be hiding paneling. There is an entryway and stair between this room and the old room (images 10 & 11)
14. Old door hardware - there appears to be a variety of door hardware spanning different time periods.
15. Steps going up to the bedrooms
16. Interior of a chimney cupboard with old wallpaper inside
17. Window facing rear of house
18. Attic area
19. Built in cupboard in old stair well. Once can crawl behind the walls and around the chimney through this opening
20. Upstairs bedroom over newer (18th c) part of the house
21. Door hardware
22. Kitchen area - Note two board door with battens and stair angle on right. This room comes off the buttery area in shed on left.
23. Beehive in old Front room.
24. Same beehive oven in Front room
Location
204 West Bare Hill Road, Harvard, Massachusetts
Rights
Items in the "Anne W. Baker Collection," at Roger Williams University Libraries Archives (Bristol, Rhode Island) may be protected under copyright law. They may only be used for educational, teaching, and learning purposes. If intended use is beyond these purposes, it is the responsibility of the user to obtain the appropriate copyright permissions.
Style/Period
late 17th Century
Recommended Citation
"Houghton-Sprague House 020: Image Series, May 2006" (2022). Images. 849.
https://docs.rwu.edu/baker_images/849
Keywords
Houghton House, Houghton Farm, Houghton-Sprague, Harvard, Massachusetts
COinS