Preview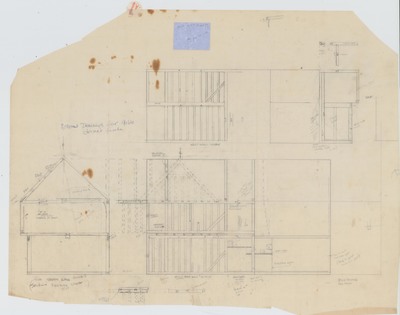 Date of Restoration
1882, 1950
Description
Anne Baker's Drawing of components of Cajacet's frame and walls. Labels are included for the West wall - inside, principle rafter, present east wall- outside, stud pocket, post next to chimney, and fireplace front. No date is given for this drawing.
Location
850 East Shore Road, Jamestown, Rhode Island
Document Type
Drawing or Plan
Rights
Items in the "Anne W. Baker Collection," at Roger Williams University Libraries Archives (Bristol, Rhode Island) may be protected under copyright law. They may only be used for educational, teaching, and learning purposes. If intended use is beyond these purposes, it is the responsibility of the user to obtain the appropriate copyright permissions.
Style/Period
17th Century
Recommended Citation
"Captain Thomas Paine House: Baker Drawing of Cajacet Framing Components" (2022). Plans. 111.
https://docs.rwu.edu/baker_plans/111
Keywords
Captain Thomas Paine House, Cajacet, Jamestown, Rhode Island
COinS