Preview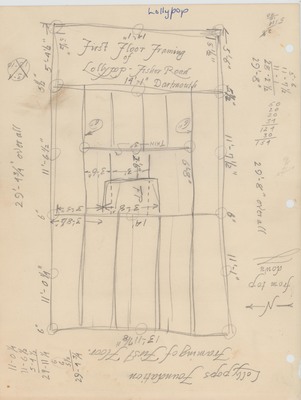 Date Moved or Destroyed
1957,1969
Description
Sketch of the First Floor Framing of Lollypop House on Fisher Road in Dartmouth. Later moved to 670 Drift Road and attached to the main house as an ell.
Location
670 Drift Road, Westport, MA
Document Type
Drawing or Plan
Rights
Items in the "Anne W. Baker Collection," at Roger Williams University Libraries Archives (Bristol, Rhode Island) may be protected under copyright law. They may only be used for educational, teaching, and learning purposes. If intended use is beyond these purposes, it is the responsibility of the user to obtain the appropriate copyright permissions.
Style/Period
Center Chimney Cape
Recommended Citation
"Bakerville: Sketch of First Floor Framing of Lollypop House" (2023). Plans. 177.
https://docs.rwu.edu/baker_plans/177
Keywords
Bakerville, Tripp House, Drift Road, Westport, Massacusetts, Lollypop House
COinS